All plaques include laser engraving.
Special incentives on large orders.
All trophies are priced with animal figure (for victory/achievement, deduct $0.75) and engraving.
---
---
---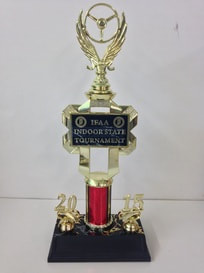 ​
Legacy Black Marble
LBM-3 15" - $10.50
LBM-4 16" - $10.80
LBM-5 17" - $11.00
Note: Base is plastic, not natural marble
---
---
Please see the trophy page for additional options (Animal figures and other 4-H related figures are available for any trophy-see above or figure page or call for additional options not shown).